Damien Woody: Baker Mayfield Lacks Self-Awareness, Doesn't Understand Business of Football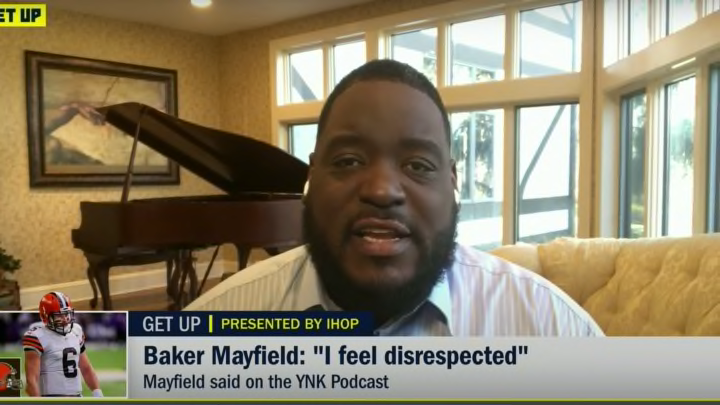 Damien Woody /
The Cleveland Browns have an unhappy camper on their roster in the form of Baker Mayfield, the inevitable fallout from the Deshaun Watson trade the team decided to execute without an exit strategy for Mayfield. Mayfield spoke publicly about the situation for the first time yesterday and said he felt disrespected by the organization, who told him they were going to do one thing then did another thing entirely. Now Mayfield doesn't have a job.
Damien Woody, former NFL player himself, talked about it all on Get Up this morning and was... not sympathetic to Mayfield's plight. He expressed his opinion that Mayfield's comments exposed his lack of self-awareness, and then stated that it made Mayfield look like he didn't understand the game of football at all.
Woody is certainly making some good points. The NFL is a cutthroat business and there is no sentimentality. Teams will spring for upgrades whenever they can. It is undoubtedly disappointing for the player who gets replaced, but that's just the way it goes. Business is business.
However, Mayfield's case isn't that cut-and-dry. The Browns aren't a normal team who took an opportunity to upgrade when it was presented. They are a historically terrible team who had a legendary string of awful quarterbacks until Mayfield showed up and ushered the organization to its first playoff win of the century. Mayfield then plays hurt all next season, and the team acknowledges that by trading for a quarterback who is definitely better but also definitely is in the middle of a horrible off-field legal situation that rendered him untouchable for 12 months and is yet unresolved.
Football is a pitiless game, but we can admit Mayfield got screwed here. He's mad he got screwed. It doesn't mean he's not self-aware or doesn't get the game. He just got railroaded and is openly complaining about it. You don't have to side with him to understand where he's coming from.