Dak Prescott Already Suffering From Tipped Interceptions at Training Camp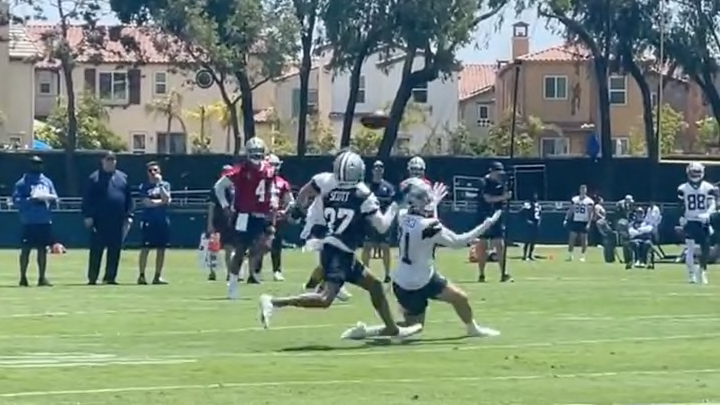 Dak Prescott /
Last week, Dak Prescott went viral for a quote he gave to the Fort-Worth Star Telegram. He said he wouldn't have more than 10 interceptions this season and it caused quite the ruckus among the NFL folk given Prescott led the league with 15 picks last year. It turns out that was not what Dak said at all. Instead the Dallas Cowboys quarterback said he wouldn't have tipped interceptions this year. The inexperienced receiving corps behind CeeDee Lamb and Michael Gallup were responsible for several such picks last season, the worst being the tipped pick-six that lost the Cowboys a game against the Jacksonville Jaguars.
In that interview Prescott expressed his confidence that Mike McCarthy's work with those receivers would ensure no tipped interceptions would happen this year. Well, if training camp is any indication, that confidence was misplaced. The very first pick of camp came from rookie sixth-rounder Eric Scott. It was, as you probably guessed, a tipped interception.
It looks like that was Simi Fehoko, a 2021 fifth-round pick out of Stanford who spent most of last year on injured reserve. He's going to have a tough time seeing the field if he lets that mistake set the tone for camp.
Even if he doesn't Prescott is back to having three established wideouts as his primary targets after Dallas traded for Brandin Cooks a few months back. So in theory the tipped INT problem will be significantly mitigated. Not off to a great start on that front though.