Dabo Swinney Drains Fadeaway Jumper Over Recruit, Doesn't Know How to Act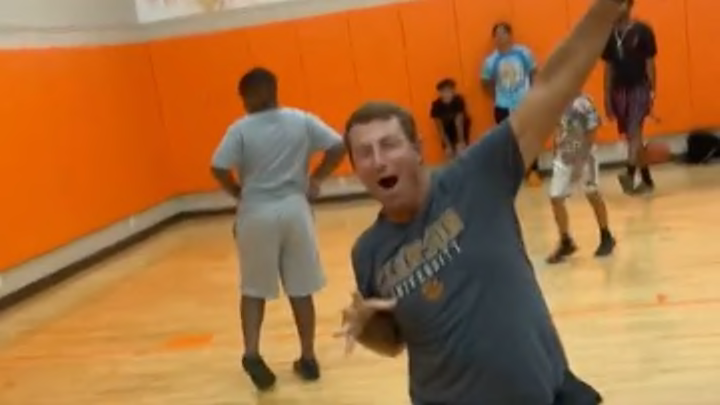 Dabo Swinney /
It is June and Dabo Swinney is working on preparing his Clemson Tigers for the 2022 college football season between giving quotes about how the NIL is bad for the game. But as we all know the recruiting grind never stops in the NCAA, and Swinney hosted some potential future Tigers on campus over the weekend.
At some point, Swinney and the recruits wandered over to the basketball courts to put on their best Celtics-Warriors impression. Swinney posted up three-star safety Rob Billings on the block and drilled a fadeaway jumper. Swinney then appeared to forget how to celebrate and mixed together a couple classics before settling for some kind of arrow-bow thing with his palms wide open.
I do wonder what the plan was when he began skipping sideways. I would've liked to have seen that come full circle instead of the pivot to the well-used arrow celly with a Swinney twist.