Latest NFL Leads
Cowboys Blinded By Sun Shining Into Stadium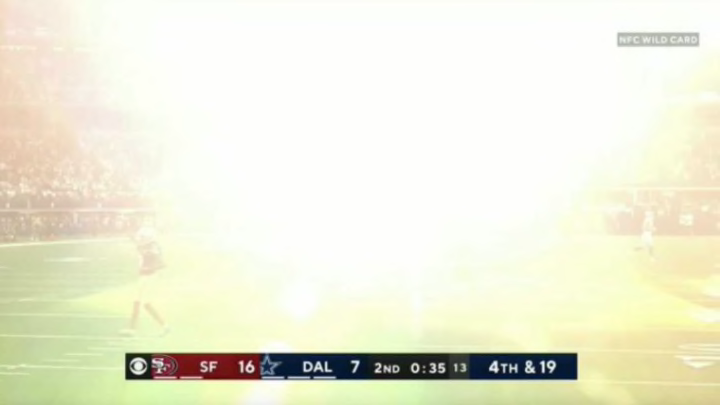 The sun was blinding at AT&T Stadium during the Dallas Cowboys-San Francisco 49ers game. /
The Dallas Cowboys are hosting the San Francisco 49ers on Wild Card Weekend, but their home-field advantage hasn't been all it's cracked up to be so far. The Cowboys trailed 16-7 at the half and a quirk of their stadium had a big role in stopping a potential scoring drive late in the second quarter.
The Cowboys faced a third and 19 near midfield with 38 second left in the half. Dak Prescott found Wilson open in the middle of the field. As the receiver looked back for the ball he couldn't see it, because the sun shining through the stadium's windows blinded him.
Here's the play:
And here is what he was looking back into:
If Wilson catches that ball, he would have been well within Greg Zuerlein's field goal range. Dallas could have made it a one-score game heading into the half. Instead, the drive stalled and they had to punt it.
I guess no one thought to plan for an afternoon home playoff game when designing AT&T Stadium. That's a pretty big "oops" right there.