Cowboys, Raiders Nearly Brawled After Thanksgiving Game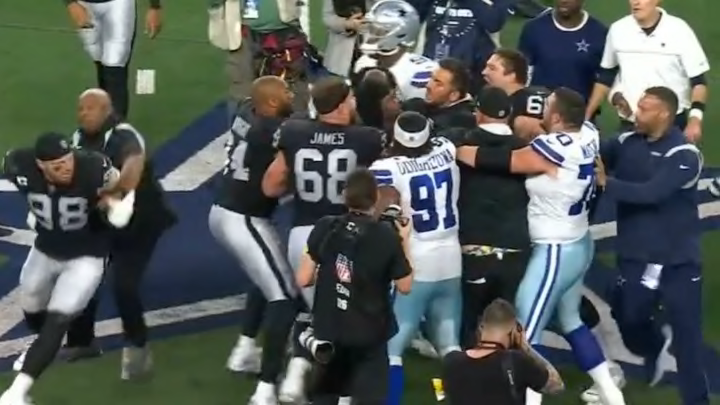 Cowboys-Raiders fight /
The Las Vegas Raiders hit a 29-yard field goal in overtime to beat the Dallas Cowboys on Thanksgiving. The game was a chippy affair, with a scrum breaking out in the middle of the third quarter that left a referee bloodied. It turns out there were some more fireworks after the contest that many Thanksgiving viewers may have missed as they either fell asleep or turned their attention to the next game.
Cowboys DT Trysten Hill is shown below punching Raiders guard John Simpson and knocking off his helmet. Hill then promptly backpedaled as Simpson started towards him and a bunch of other players got involved.
It was a sucker punch, to be sure, and Hill's business decision to back away immediately after doing so paid great dividends. I still don't know why he would punch a guy with his helmet on. How mad do you have to be to risk breaking your hand just to punch a helmet? It's not like Simpson really felt much of the impact.
Ian Rapoport followed up this morning and said Hill won't be suspended, but the league will review his actions for a fine.
That is a mild surprise since it seemed pretty straightforward in the video above, but lucky Cowboys, I guess. They need Hill in the trenches to break out of their slide they suddenly find themselves in. Hill will just need to keep his temper in check going forward.