Cowboys Block Punt, Leading to Free First Down For Broncos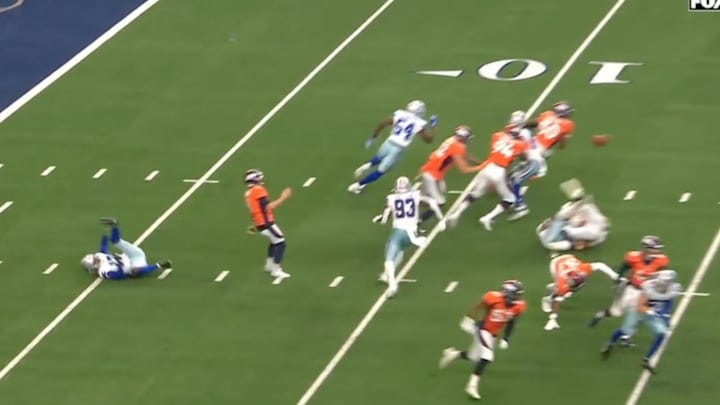 The Dallas Cowboys got off to a very slow start against the Denver Broncos on their home turf on Sunday, falling behind 16-0 in the first half. The Dallas defense managed to get a stop on Denver's first possession of the second half, forcing the punt team to come out.
The Cowboys appeared to get the spark they needed when they blocked the Broncos' punt. But then something weird happened. After the punt was blocked, a Cowboys player tried to corral the ball and failed. The ball was then recovered by a member of the Denver punt team. Because the Cowboys player failed to recover the ball to start, the ball was then considered live and the Broncos got a free first down.
Seriously.
It is a very weird rule, especially in this circumstance because the Broncos recovered the ball well short of the first down marker. It makes sense that the Cowboys technically muffed the punt but it resulting in a free first down for Denver is a brutal break.
It seems to be just one of those days for Dallas. Denver is undeniably an inferior opponent based on what we've seen over the first eight weeks of football, yet the Cowboys can't do a thing right. Not even recover a blocked punt correctly.
One of the stranger circumstances we'll see this season.