Deranged Message Directed to 'Becky' Displayed On Giant Coors Field Scoreboard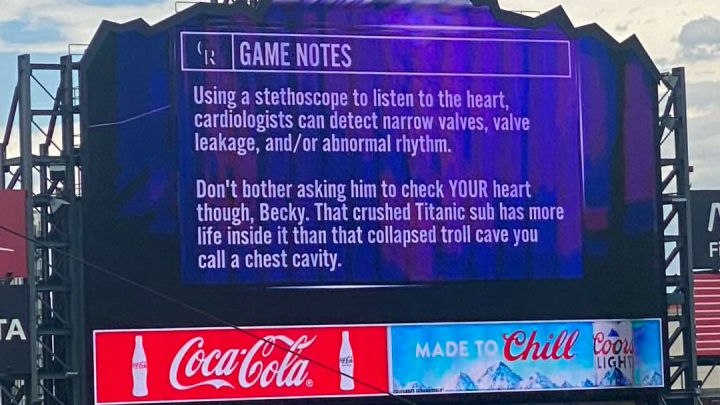 Enormous scoreboards are the preferred medium for displaying batting averages, marriage proposals and birthday wishes to a beloved guy named Don who is turning 75 today. They are physically large and a massive platform for disseminating information to a packed stadium. Every now and again something bizarre pops up on them and makes everyone very uncomfortable.
And things got very weird a few minutes ago in Denver, where the Colorado Rockies are hosting the Houston Astros. Someone had a very specific message for Becky and couldn't make it without making light of a recent tragedy. It is incredibly weird.
"Using stethascope to listen to the heart, cardiologists can detect narrow valves, valve leakage, and/or abnormal rhythm," it read. "Don't bother asking him to check YOUR heart though, Becky, That crushed Titanic sub has more life inside it than that collapsed troll cave you call a chest cavity."
It doesn't really matter what Becky did or if she actually exists. The person responsible for this is going to be donezo when they find them. Hope it was worth it.