The Rams Threw the Ball to Cooper Kupp With a Minute Left in a Blowout and He Hurt His Ankle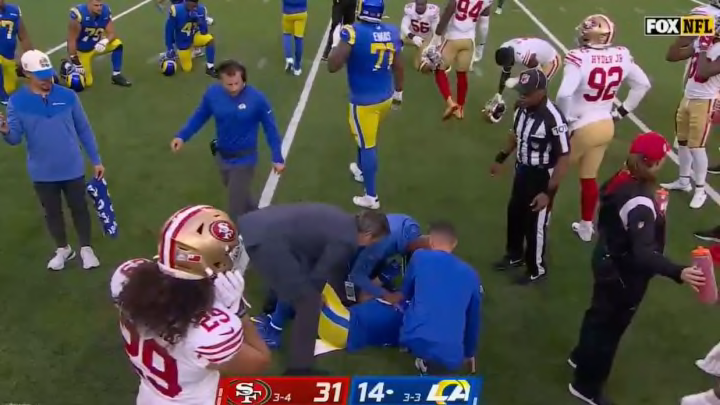 Cooper Kupp suffered an ankle injury with just over a minute remaining in a blowout loss to the San Francisco 49ers in Week 8. The 49ers had a 31-14 lead when the Rams took over on their own nine-yard line with 2:24 remaining in the fourth quarter. The decision to let Matthew Stafford, Kupp and any other starters to be involved at all is worth a serious head-scratching.
Here's the somber scene as trainers attended to Kupp.
Kupp was able to walk off the field, but Rams fans must have had their hearts in their throats.
When you add in a little more context, the decision to throw the ball to Kupp in this situation is even worse. The Rams handed the ball to running back Malcolm Brown twice to start the drive and were running the clock down. They weren't even trying to push the ball down the field for a miracle comeback. And then they threw a screen pass to their best player when they already have wide receiver depth issues.
The only reason you would possibly throw the ball to Kupp here is to get him the stats. It certainly would have made for a memorable last catch of the season if the injury had been more serious.