Fox Sports Cuts to Camera on Ground in Middle of Colorado Touchdown vs. TCU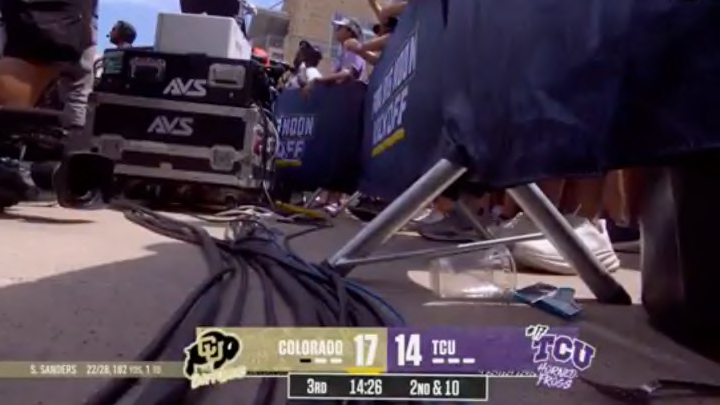 What a sight /
Deion Sanders' Division 1 coaching career got off to a tremendous start this weekend as Colorado gave No. 17 TCU everything they could handle on Fox Big Noon Kickoff and pulled off the upset, 45-42. The stars for the Buffaloes came out in force. Two-way superstar Travis Hunter showed he could do it at the highest level of collegiate sports and Deion's son, Shedeur Sanders, put on an absolute show at the quarterback position. It is fun to root against the Prime show but dammit if Colorado won't be an extremely funy team this year.
The Fox Sports camera team appeared to miss that memo early in the third quarter. CU running back Dylan Edwards took a screen from Sanders (the quarterback) to the house, weaving in and out of the Horned Frogs' defense with shocking ease. The 75-yard TD was interrupted, however, right as Edwards was about to cross the goal line because the FOX broadcast cut to a camera lying sideways on the ground somewhere instead of the proper overhead angle.
It is reminiscent of when NBC Sports accidentally cut to an unsuspecting fan in a ninth-inning at-bat during a Mets-Giants game earlier this summer. A very unfortunate slip of the finger occurring when the most eyes possible were on the screen. Tough break.
Fortunately there were lots and lots of other touchdowns to enjoy in this game so missing out on the finishing touches of Edwards' run wasn't the worst thing to happen.