Did Shedeur Sanders Poke a Colorado State Player in the Eye During Colorado Double OT Win?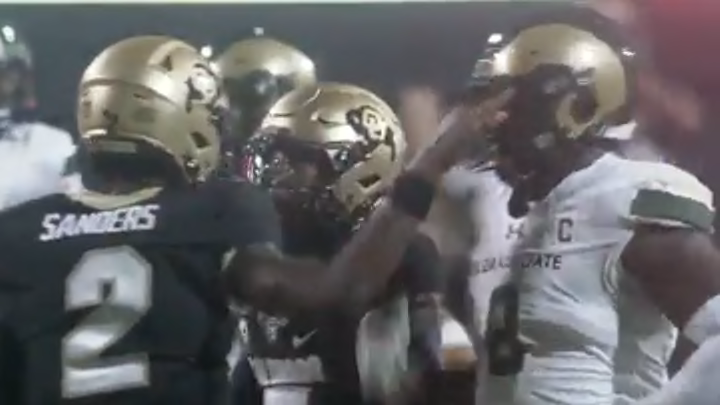 Shedur Sanders /
Deion Sanders' Colorado team continued to take the college football world by storm last night, eking out an incredibly exciting win over their in-state rivals. The Buffaloes defeated the Colorado State Rams, 43-35, in double overtime. After a week of trash talk and promotion from both Sanders and Rams head coach Jay Norvell the contest delivered in pretty much every way-- including some questionable actions from both sides stemming from the heat of a rivalry matchup.
The most significant and game-changing example of this is the late hit two-way superstar Travis Hunter received from Colorado State that put him in the hospital. That happened early on in the game and set a high standard for how contentious things could get.
It probably played a role in the below video of Shedeur Sanders appearing to poke star Colorado State defender Mohamad Kamara in the eye.
It's hard to tell if he made contact but the intention was clear. Not a great look for the young QB. Eye-poking is one of those lines that football players rarely cross and usually spark quite an incident when they do.
Sanders is lucky the refs didn't catch it. This was a close game and a 15-yard unsportsmanlike conduct penalty definitely could've made a big difference.
Going to have to clean that up if Colorado is going to keep winning games.