College Football 2015 Preview No. 25: Wisconsin Badgers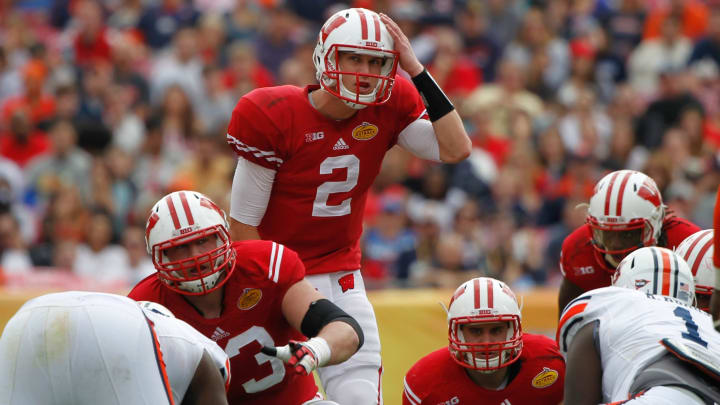 Regular Season Records (last 4 years): 10-2, 9-3, 7-5, 10-2
SRS Rankings (last 4 years): 18, 17, 24, 9
Talking Point: Coaching change. Ohio State firebombed Wisconsin in the Big 12 Title Game. Gary Andersen left for a less prestigious job at Oregon State. The Badgers, paragons of stability, are on their third head coach in four years. Paul Chryst, a former Wisconsin offensive coordinator, will ease concerns about transition. He's also coming off an unspectacular 19-20 record at Pitt over three seasons.
Why To Like Them: Defensive Coordinator Dave Aranda, who had SEC and NFL teams sniffing around, stayed. Wisconsin returns most starters, including a de-mulleted Vince Biegel, from what looked like a Top 20 defense, until it met Ohio State. The Badgers may have a stable presence at QB, presuming fourth-year starter Joel Stave has recovered from the yips. Chryst has a good track record with quarterbacks.
Why Not To Like Them: The Badgers replace three starters in the O-line and lose Melvin Gordon. You're trusting development history here, to an extent. Stave will be throwing to a nebulous abyss at wide receiver beyond Alex Erickson. Wisconsin could struggle against good defenses. Fortunately, they don't face many of them.
Schedule: In one word: accommodating. Wisconsin opens with Alabama. Beyond that, the Badgers play Miami (Ohio), Troy and Hawaii at home. Their toughest B1G West game is either Nebraska or Minnesota on the road. Their cross-division draw was Rutgers and Maryland. At worst, they experience some mild turbulence.
Throwing Darts: Wisconsin is Wisconsin. The Badgers maybe play Alabama closer than expected. They feast on a soft B1G West. They rank Top 10ish to close the regular season. The postseason determines whether they belong there.
Spoiler: they probably don't.
Random Wisconsin Alum: Boz Scaggs