Colin Cowherd Proposes Wild LeBron James Trade to Warriors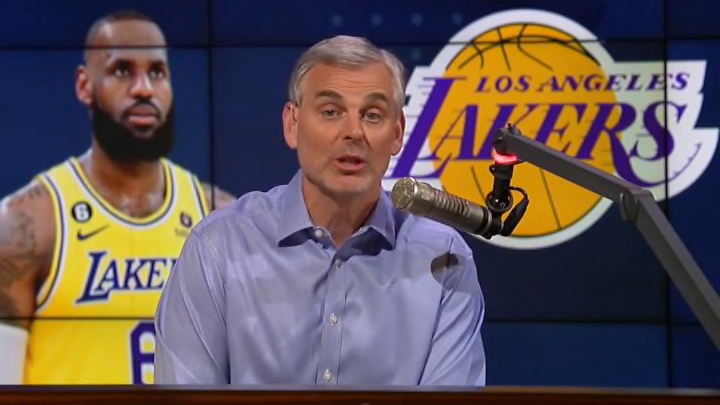 Colin Cowherd loves to make headlines with his speculation, and darned if he didn't do it again. On Wednesday's episode of The Herd, Cowherd proposed a trade that would send LeBron James from the Los Angeles Lakers to the Golden State Warriors. And he thinks it makes far too much sense.
In his proposed deal, the Lakers would send LeBron to the Warriors in exchange for Andrew Wiggins, Jonathan Kuminga and Jordan Poole. Cowherd thinks adding James helps the Warriors in the short-term, and adding three younger, useful rotation guys helps the Lakers now and in the future.
Here's what he had to say:
OK, so let's get this out of the way: This deal will never happen. The Lakers would only trade James if he threatened to sit out the final year of his contract. Which is highly unlikely to happen. LA simply makes too much money off of having LeBron on the team. The NBA would also hate this deal as it would weaken the Lakers. Having James in LA is great for the league.
Second, if the Lakers did trade James, they wouldn't willingly accept the contracts Wiggins and Poole currently have. Both guys are under contract for four more years. Poole's four-year, $123 million extension kicks in next season, as does Wiggins' four-year, $109 million deal. That's a ton of money for two guys who would never be close to the second-best player on a championship team. Kuminga is a nice piece, but the Warriors barely played him in the postseason.
To get James, the Warriors would need to part with a ton of draft picks. That's what the Lakers don't have (thanks mostly to the Anthony Davis trade). If LA was planning on getting younger, the franchise would want first-rounders for a few years to help restock the youth on the squad around Davis. The Warriors are too smart to mortgage the future on a season (or two) of LeBron.