Colin Cowherd Now Five Percent Less In on Justin Fields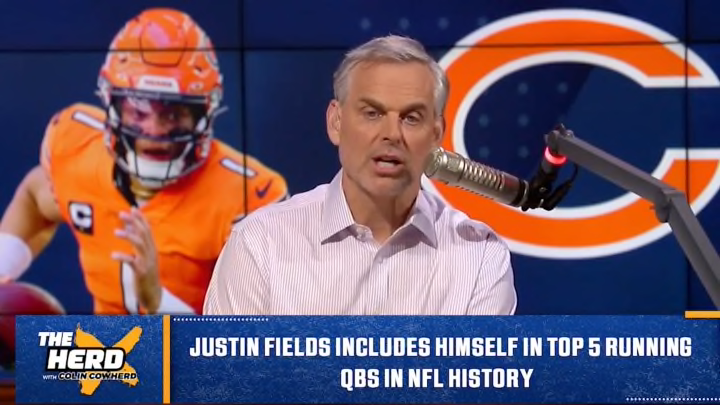 Colin Cowherd /
Justin Fields did all content creators a massive favor on Tuesday. During a podcast appearance, the 24-year-old named himself one of the five best rushing quarterbacks in NFL history, placing himself alongside Michael Vick, Cam Newton, Lamar Jackson, and Steve Young. Those four names are not particularly controversial when it comes to this conversation, although one might wonder if Randall Cunningham or Steve Grogan shouldn't get a spot. But Fields including himself is one of those things where you either love the confidence or hate the hubris, since he is obviously not top-5 after all of two seasons in the NFL.
Colin Cowherd is not a fan, and the quote had a devastating statistical impact on Cowherd's projection of Fields' success. The Fox Sports host held a segment on The Herd in which he declared he was now five percent less certain Fields would succeed because the interview suggests he lacks self-awareness.
This is one of those classic Cowherd segments where you both question the necessity of a 24-hour sports news cycle and marvel at the man's ability to create the perception of a nuanced conversation through a single soundbite. He could have taken the angle everyone else took today. Instead he did this.
The first half of his clip also make Baker Mayfield's downfall more depressing. Cowherd would have had endless content if Mayfield had been decent. Alas. Maybe Fields is his new favorite target now. How does he wear his hats?