Colin Cowherd: 49ers Need to Hand Keys to Trey Lance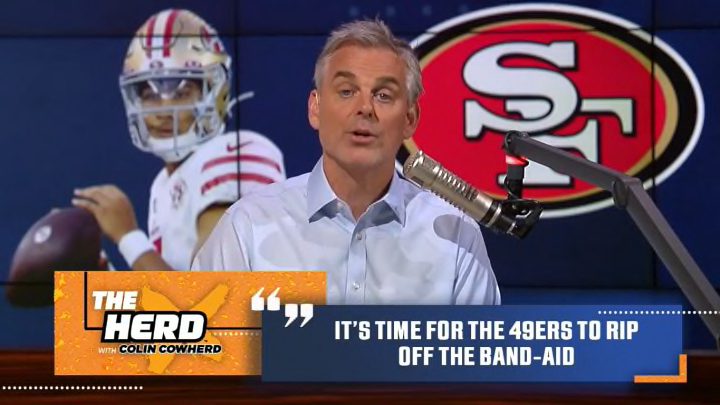 Colin Cowherd on "The Herd with Colin Cowherd" /
The San Francisco 49ers have a big decision to make at the most important position on the field. Do they keep Jimmy Garoppolo or roll the dice on the uber-talented but inexperienced Trey Lance. Colin Cowherd thinks the choice is simple: hand the keys to Lance.
Cowherd's reasoning is that Lance checks a lot of boxes. He's big, strong, athletic and, according to most sources, pretty smart. Kyle Shanahan is known as a bit of a quarterback whisperer, so it stands to reason he'd be able to get the best out of Lance.
Here's what Cowherd had to say:
There is a lot of merit to this argument. Garoppolo is solid but he's not going to win you games by himself. He needs to be surrounded by the right talent and a stout defense. Lance has the upside of an elite quarterback. The issue is that his floor is as low as his ceiling is high.
Lance played in six games as a rookie in 2021. He completed 41 of 71 passes (57.7 percent), for 603 yards, with five touchdowns and two interceptions. He also ran for 168 yards and a touchdown on 38 carries. Overall, he was pretty underwhelming.
The 49ers gave up two first-round picks and a third-rounder to move up and select Lance during the 2021 NFL Draft. That's a lot of capital to surrender if you're not going to play someone. He's entering his second season and at some point San Francisco needs to use him.