The Browns Obviously Did Not Have Weed On the Sideline Against Bears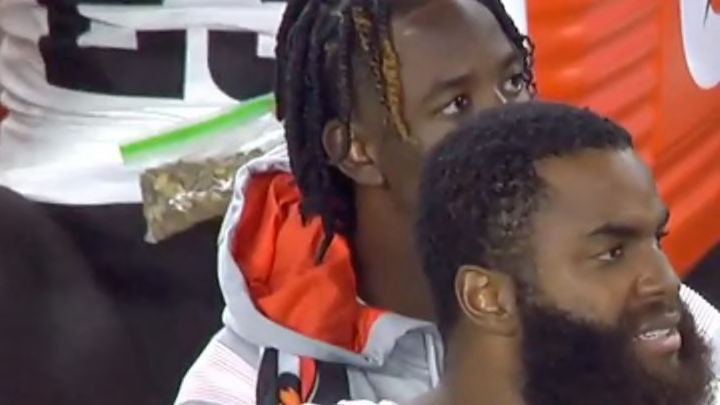 Some green /
The Cleveland Browns played the Chicago Bears in both teams' final preseason game this past Saturday. Justin Fields looked as good as he ever has in a Bears uniform. Jacoby Brissett, filling in until Deshaun Watson returns from suspension, looked like Jacoby Brissett. But the talk after the game was not about the play on the field but rather what was happening on the bench.
During a shot of the Browns' sideline during the broadcast on Saturday, a Browns player was spotted handling a bag filled with... something. It appeared to blow up and really start to gain some traction when Jomboy tweeted about it.
This led to various suggestions about what that bag may contain. Mostly people thought it was weed. Some in a joking manner. Some not.
The service we provide is to explain these types of things, and we are here to tell you that it is definitely not weed. Because that would be insane! NFL sidelines have all sorts of weird stuff hanging around. It could be a snack or a new recovery method developed by the training staff. It really could be anything.
Except weed, of course. As amusing as it is to imagine a professional athlete deciding to bring a bag of drugs to work.