Cincinnati's James Hudson Provides Rare Offensive Lineman Targeting Ejection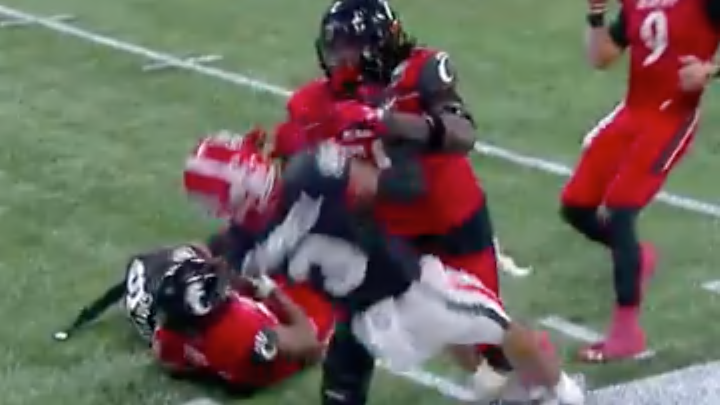 The Cincinnati Bearcats gave the Georgia Bulldogs all they could hope to handle in the first half of today's Chick-fil-A Peach Bowl and nurture a four-point advantage at the break. Thirty minutes stand between us all and an interminable debate in the offseason about how unjust it is that an undefeated team that took down an SEC power wasn't given the opportunity to compete for college football's ultimate prize.
But Cincinnati will not have an easy path. Not after losing starting left tackle James Hudson to a targeting call, which he more than earned by inexplicably lighting up Tyson Campbell well after a play was over.
That is an extremely tough way to go out of a marquee game on the year's first day. All those resolutions to keep a cooler head out the window, to be pursued in earnest tomorrow.
Luke Fickell's team is not totally lost though, as a 6-foot-9 tackle from Germany dutifully trotted out there as the next man up.
Look at those arms. One can assume there are more than a few stein-holding contests ahead in young Metz's future.