Ciara Wore Russell Wilson's Super Bowl Ring, Jersey Number to the Met Gala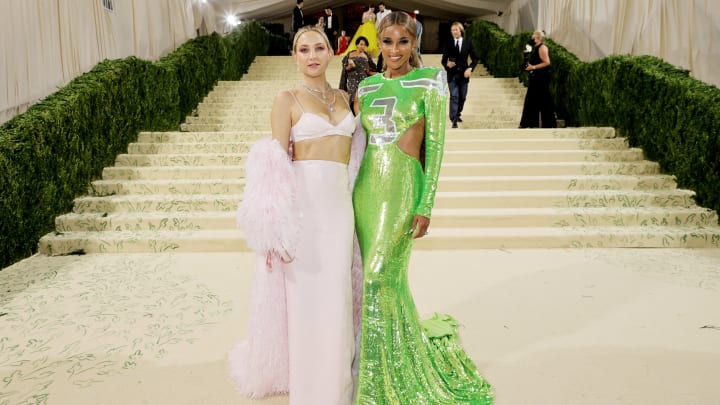 Jamie McCarthy/MG21/Getty Images
The Met Gala is a classic New York rite of fall during which the fanciest of our fancy people wear expensive clothes, Jason DeRulo performs a ceremonial falling down of stairs, and random seating allows Lena Dunham and Odell Beckham Jr. to confirm they never had much of a chance to become real-life friends. It returned last night with the normalcy of A-Listers showing up wearing increasingly complex outfits designed to maximize shock and awe.
And honestly, we're not ashamed to admit we missed it. The glitzy evening provided entertainment in the moment, sartorial inspiration for the future, and AOC's dress will singlehandedly program Fox News' primetime lineup for the next several weeks. But the true star, divined by a proprietary sports-and-pop culture metric known only to this CMS, was Ciara.
The singer looked resplendent in a dress inspired by her husband's Seattle Seahawks jersey.
The 2021 Met Gala Celebrating In America: A Lexicon Of Fashion - Arrivals / Mike Coppola/Getty Images
Arturo Holmes/MG21/Getty Images
It's highly unlikely this look will be popular at chicken-wing establishments on NFL Sundays, but the few brave enough to try it will really stand out. Oh, you wore a Carson Wentz jersey to O'Malley's? This is a Dunda.
Ciara chose to accessorize with Wilson's Super Bowl ring and a miniature football, which it's safe to assume was bedazzled immaculately and costs more than even the most chronic of gamblers coughed up in Week 1.
Mike Coppola/Getty Images
Why? Because it's the Met Gala and if not there, then where?