Chris 'Mad Dog' Russo and Ryan Clark Hold Heated Discussion About Heisman Trophy Voting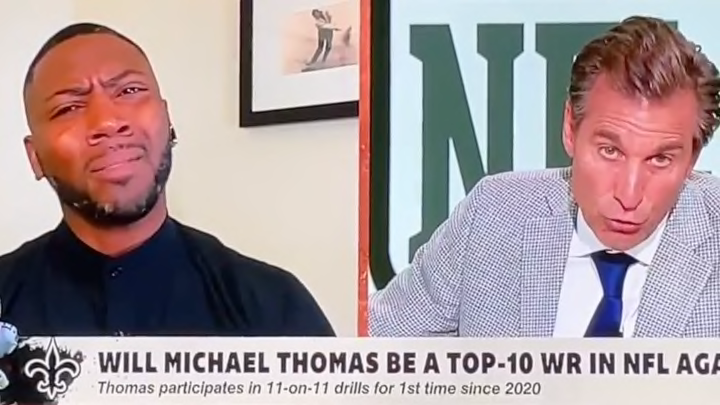 Ryan Clark and Chris Russo /
ESPN must be extremely grateful that it decided to add Chris "Mad Dog" Russo's talents this year because he's been indispensable as a stand-in for the absent Stephen A. Smith over the last month. Nobody can do quite what Stephen A. does for the four-letter network but Mad Dog has filled in admirably as the marquee sports-shouter on First Take most days of the week. On Monday, though, things got a bit tense between the radio host and Ryan Clark.
Clark was brought on First Take to talk about the upcoming NFL season and the conversation meandered to Cooper Kupp's remarkable 2021 season that culminated in a receiving triple crown and a Super Bowl MVP. Mad Dog and Clark got into it over whether this puts Kupp on a Hall of Fame track, leading to Clark criticizing Mad Dog's Heisman Trophy voting and both sides got snippy.
Asking Mad Dog to stop yelling is undoubtedly a futile endeavor but you can see where Clark is coming from. It is probably quite tiresome to get shouted down every 30 seconds on TV. It's Mad Dog's style and it's why segments with both he and Stephen A. are both incomprehensible and entertaining in equal measure, but it's not for everybody. And it doesn't always make for great debate.