'First Take' Set Shocked by Mad Dog Admission That He Took a 'Gummy' During Bruce Springsteen Concert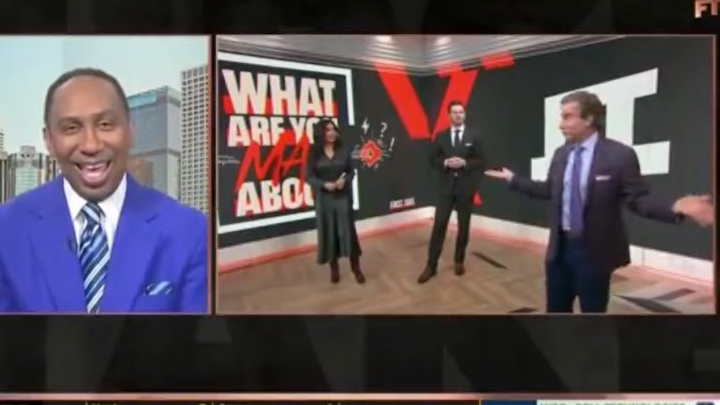 'First Take' /
Chris "Mad Dog" Russo has added tremendous value to First Take and ESPN has re-upped with the longtime sports-shouter for another year of appearances. There is, though, always a bit of a risk factor with a personality like Russo. What makes him great is what makes producers nervous-- you never really know what he's going to say, and the conversation could go flying off the rails at any given moment.
That happened during today's episode as Mad Dog casually mentioned he took a "gummy" and had a few cocktails during a recent Bruce Springsteen concert. This admission caused Stephen A. Smith to cackle as Molly Qerim walked towards the back of the studio while facepalming. As the program cut to commercial JJ Redick can be heard murmuring "This is a Disney operation."
Stephen A. definitely had approximately one million zingers in his head when Mad Dog asked him if something was funny, but wisely held his tongue. That's how you make the big bucks.
Again we wonder what this show would become without Qerim's steadying presence. Gummy bears! That's some quick thinking. Mad Dog might be getting a call from the C-Suite once he's done for the day. We say let the man riff on whatever he wants-- without that freedom, we wouldn't get rants such as his epic airplane diatribe from a few weeks back. Let Mad Dog cook, on gummies or gummy bears.