Chiefs' Andrew Wylie Gets Called For Rare & Hilarious Offensive Lineman Taunting Penalty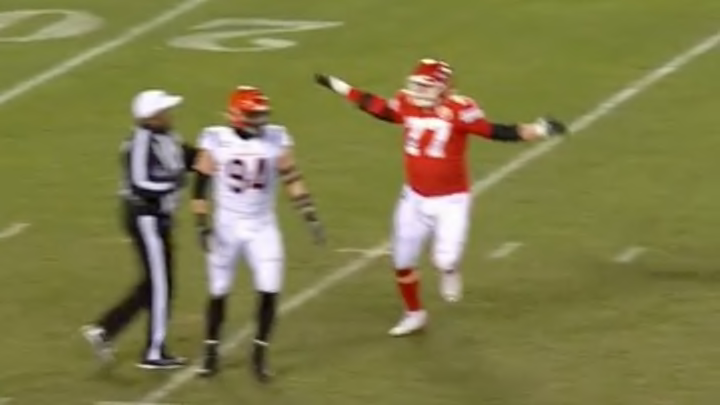 Patrick Mahomes hit Marquez Valdes-Scantling on 3rd-and-8 during the third quarter of the AFC Championship Game between the Kansas City Chiefs and Cincinnati Bengals. Valdes-Scantling gained 25 yards on the play, but the Chiefs only netted 10 yards on the play because of an unsportsmanlike penalty on lineman Andrew Wylie. The violation? Taunting.
Wylie was taunting Cincy's Sam Hubbard. Unfortunately, Hubbard was complaining to an official at the time and that guy would not have had any trouble picking Wylie out of a lineup. It was a bit of an early celebration, especially considering Patrick Mahomes fumbled a few plays later and Hubbard recovered the fumble.
This is why lineman don't generally taunt.