Did the Refs Give Chiefs a Free Play Near End of First Half ?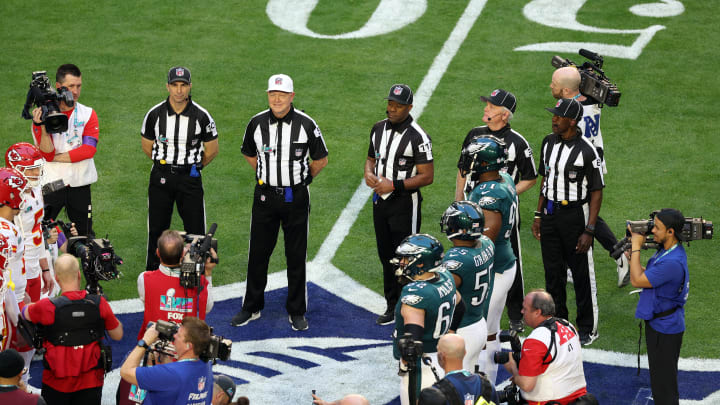 Super Bowl LVII - Kansas City Chiefs v Philadelphia Eagles / Rob Carr/GettyImages
The Kansas City Chiefs' offense spent a ton of time on the bench during the second quarter of the Super Bowl thanks to a pair of time-draining Philadelphia Eagles drives. It wasn't all bad for Kansas City because one of those drives ended in a fumble recovery touchdown for the defense, but by the time Patrick Mahomes and Co. jogged onto the field with just over two minutes to play, everyone was rusty.
The Chiefs got one play off and the clock was running down. Everybody assumed there would not be enough time to snap the ball before the two-minute warning hit. But the referees apparently missed that memo and let KC snap the ball after the two-minute warning was supposed to sound.
It wasn't terribly egregious but that play should not have counted. As soon as the clock hits 2:00 all play is supposed to stop. It doesn't matter if a referee was busy placing the ball and was the only reason they couldn't snap the ball before the warning.
A brutal miss, especially given the play went for a first down.