Charlotte Football Coach Calls Out Disrespect By Disinterested Media at AAC Media Day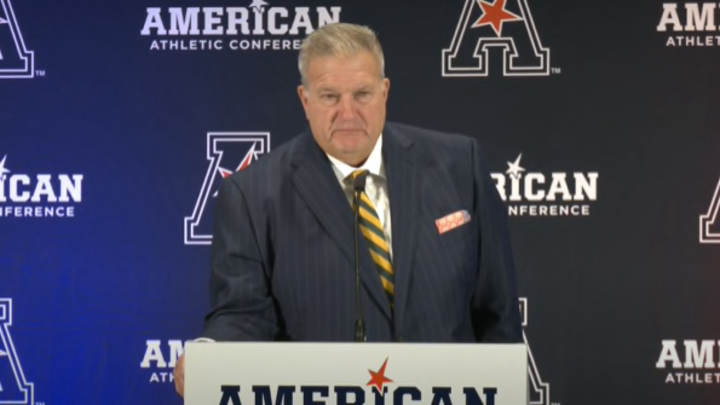 Biff Poggi was hired as the new head football coach at Charlotte this offseason just as the program made jump from Conference USA to the American Athletic Conference. He announced his presence with authority at AAC media day after feeling disrespected by the assembled media members.
Poggi took the podium to extoll the virtues of his team, lauding his players' toughness and their readiness for the jump up in conference competition. When he opened the floor for questions he only got three. And that's when things went south.
The 63-year-old first-time head coach blasted the reporters in the room for not having more to ask him, then took a shot at them for picking his team to finish in last place.
Check this out:
Slapping the podium is quite a way to punctuate your first appearance at a media day as a head coach.
If Poggi seems a bit old school, that's because he is. He spent more than 30 years as a high school coach in Maryland before Jim Harbaugh brought him to Michigan as associate head coach for 2021 and 2022. He was a legit coaching legend in Maryland. After the Wolverines' success in 2022, Charlotte hired him.
Man, it should be really fun to watch what happens next at Charlotte. Either Poggi uses this to motivate his team and they shock the world or he turns into another old school coach who can't adapt to college football's shifting realities.
Also, just a side note: Biff Poggi is an amazing name for a football coach. Just incredible. You'd think it would be the kind of name they'd give the villainous coach in a Varsity Blues sequel. But no, it's real.