Charles Barkley Rides Horse to Inside the NBA, Looks Awesome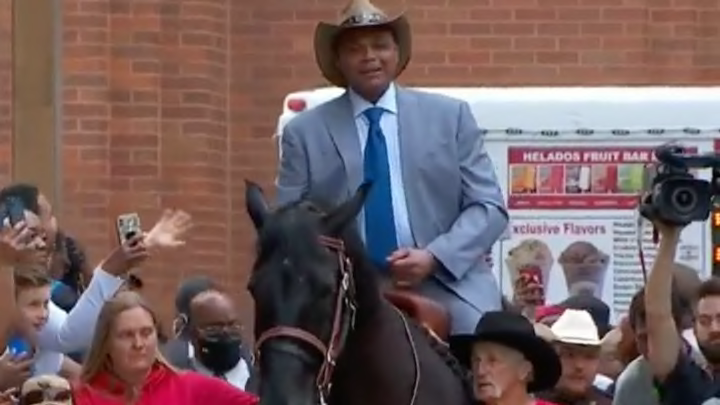 The Western Conference Finals returned to Dallas for the first time since 2011 and if you thought for one second that Inside The NBA wasn't going to create elite content around the moment, you were proven desperately wrong as Charles Barkley opted to make his grand entrance to set last night atop a majestic steed. And Chuck looked magnificent. Like he was born to ride a horse. In a suit. Which is not an easy thing to pull off.
Sadly, liability issues prevented Barkley to open it up through a straightaway as his ride had multiple handlers making sure no one got hurt on live television. This opened up the door for the rest of the studio crew to fire off their jokes. But no matter how hard they tried, they simply could not knock this man off of his high horse.
The show looked fun last night. A change of scenery did some good. It appears they may only get one more game in the Lonestar state, though, as Stephen Curry and the Golden State Warriors are knocking on the door of yet another NBA Finals appearance. Better bring out all the props and bits meant for Dallas on Tuesday night as you can't being them into the offseason.