Case Keenum Was Clearly Concussed, Stayed in Game for Rams and Fumbled Two Plays Later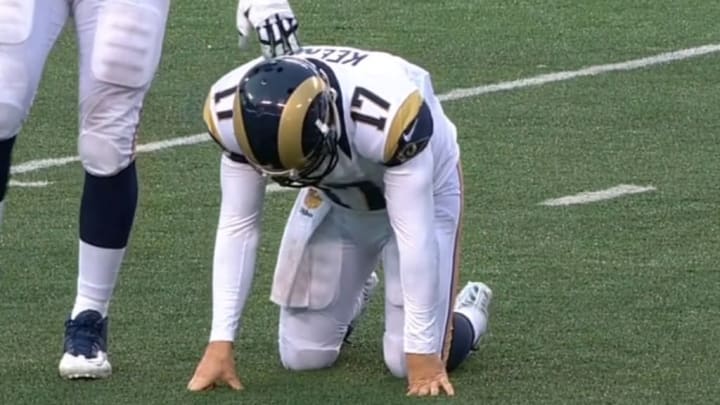 On Friday, I asked if Jeff Fisher should be on the hot seat, in his fourth year in St. Louis. After today's loss, it's a serious question for lots of reasons.
Let's close with this one, a play that does not bathe the league or anyone in the Rams' organization in glory. With the game tied at 13-13 late, Case Keenum's head slams the turf. He struggles to get up. This was on a play that was negated by a defensive offside–so yes, a quarterback took a concussion hit on an offsides situation. Keenum never left the game, and on the very next play, in a somewhat symbolic move, he threw incomplete to new Rams signee Wes Welker, he of the frequent concussion issues.
Then, on the play after that, Keenum fumbled on another sack, and the Ravens kicked the game winning field goal.
This game featured barely more than 200 yards for the Rams, 13 first downs, 4 fumbles lost, and a 10 point lead that disappeared. And what looks like a concussed quarterback fumbling away the ball late, after a quarterback switch last week to try to get the offense going.