Caddie Hops In Bunker to Play With Sand, Blows It for Golfer on Final Hole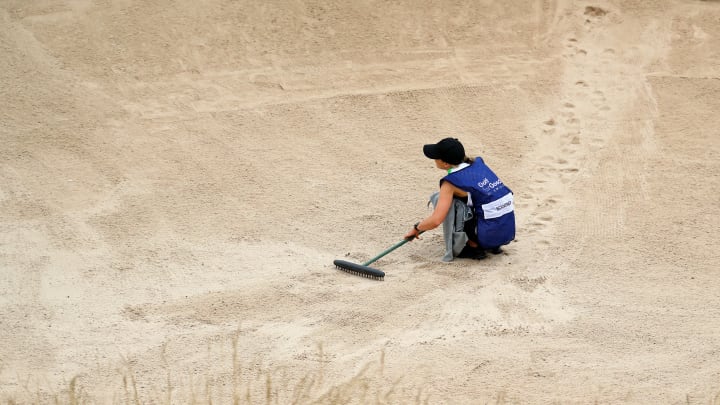 Warren Little/Getty Images
There are bad breaks on the golf course and then there's what happened to Segundo Oliva Pinto at the U.S. Amateur yesterday. All knotted up with Tyler Strafaci in match play, Pinto found the bunker at No. 18. Then his caddie, a local dude the golfer had no prior relationship with, inexplicably turned the high-stress situation into a day at the beach by climbing in and playing with the sand.
That's a no-no per rule 12.2b and we all know rule 10.3c states a player is responsible for his caddie's actions. Remember having to memorize the golf rule book in elementary school?
The sand enthusiast did not exactly cover himself in glory during the moment, at first denying he'd touched down in the bunker — which was easily disproven by replays. Then he just sort of left without offering an explanation or apology to the kid whose dreams he'd just crushed.
""He didn't say anything. But at this point it doesn't really matter. What happened, happened. He can say anything, but it won't change what happened.""
Real tough call here to decide if this is what would happen if Larry David had carry the bag in an episode of Curb or if it's ore of a 40 Year Old Virgin move. Perhaps a bit of both.