Zach LaVine Had No Interest in Postgame Interview or Celebrating Win With Bulls Teammates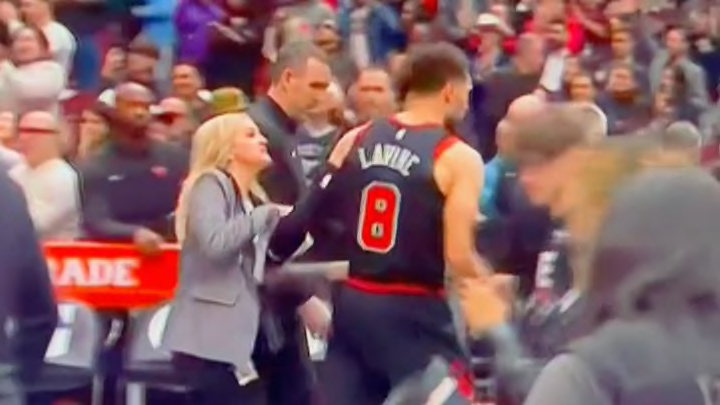 Zach LaVine /
Saturday's contest between the Chicago Bulls and Miami Heat brought the latest sign of Zach LaVine's unhappiness after trade rumors popped up out of nowhere last week. The. Bulls squeezed out a close win over the Heat, 102-97, but LaVine didn't have much to do with the win. He recorded 13 points, eight rebounds, and six assists in 35 minutes of action. A perfectly fine statline if LaVine was not making $40 million this year. Seeing as he is, we can classify this as a bad game for LaVine. But wins have been few and far between in Chicago to start the year so they'll take it.
LaVine was not a happy camper after the win, though. As soon as the final buzzer sounded he made a beeline to the locker room while his teammates lingered to high five and celebrate. On his way out, LaVine completely ignored a Bulls PR person and brushed her off. It is pretty likely she was asking the former All-Star to stick around for a postgame interview and he was having no part of it.
When asked about it afterwards LaVine claimed it was a miscommunication before unconvincingly telling reporters he was happy about the victory.
The man sounds miserable. It's fine to be mad about a tough shooting night, even if it's a win, but to publicly blow off a Bulls employee on camera while ignoring celebrating teammates is bad on every level.
If it wasn't already clear Chicago needs to get this man off the roster before things get worse. We've seen how quickly and aggressively these situations can deteriorate. Ship him off for assets and let everybody get on with the rest of the season.