Buffalo Bills Reporter Maddy Glab Discusses Her Journey Through Media and Stefon Diggs' First Season in Buffalo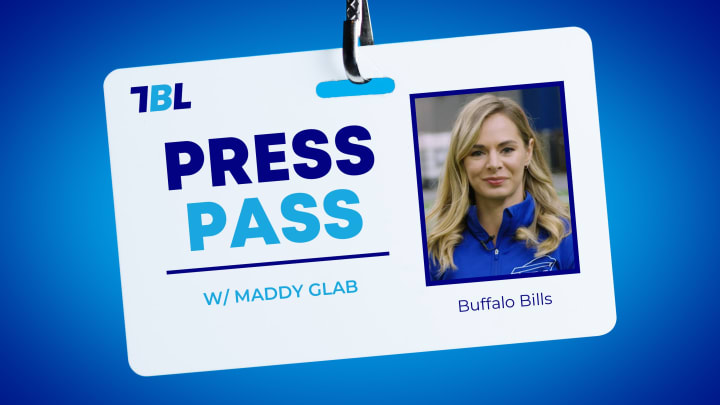 Maddy Glab /
Maddy Glab is the official Buffalo Bills team multimedia reporter. She joined the Press Pass podcast to discuss the start of her career as an on-air talent at Missouri, her first job with Stanford, how she ended up at Tennessee and worked the sideline for SEC Network, why Buffalo reminds her of the SEC, why she decided to make the jump from college to the pros, and how her first year with the Bills went. She also detailed why Bills fans should be excited about free agent signing Mario Addison, how exactly Stefon Diggs will help Josh Allen in a pivotal year of growth for the young quarterback, if this is finally the year Buffalo will reign atop the AFC East, and more.
PREVIOUS PRESS PASS PODCASTS
Greg Moore, Arizona Republic... Brandon Tierney, CBS Sports... Todd Archer, ESPN ... Dan Kurtz, MyKBO ... Matt Miller, Bleacher Report ... Armando Salguero, Miami Herald ... Vic Tafur, The Athletic ... Robert Seidman, Sports TV Ratings ... Brian Anderson, Turner Sports ... Mike Reiss, ESPN ... Chad Finn, Boston Globe ... Keith Smith, Yahoo! Sports ... Ethan Strauss, The Athletic ... Kyle Neubeck, PhillyVoice ... Jenna Laine, ESPN ... Yaron Weitzman, Bleacher Report ... Greg Auman, The Athletic ... Mo Dakhil, Bleacher Report/The Athletic ... Dave Clark, Cincinnati Enquirer ... Michael Pina, SB Nation ... Arif Hasan, The Athletic ... Max Adler, Golf Digest ... Jay King, The Athletic ... Mirin Fader, Bleacher Report ... Charles McDonald, New York Daily News ... Haley O'Shaughnessy, The Ringer ... Sarah Spencer, Atlanta Journal-Constitution ... Jovan Buha, The Athletic ... Shea Serrano, The Ringer ... Daniel Oyefusi, Baltimore Sun ... Ahmed Fareed, NBC Sports.