Bud Selig Has Little Interest in Expanding Instant Replay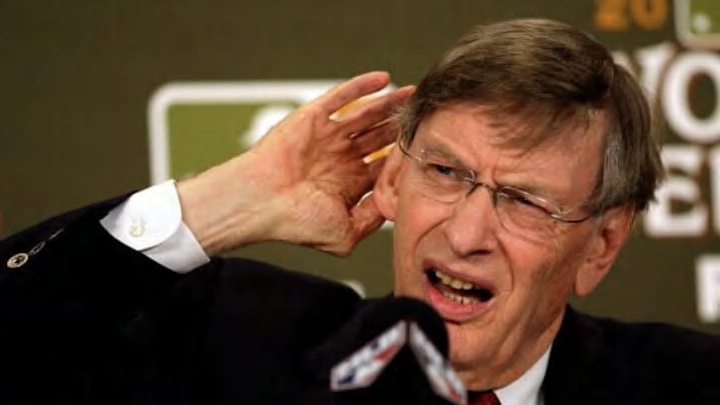 Bud Selig spoke at a sport and society conference on Wednesday at St. Norbert College in the facially expressive commissioner's home state of Wisconsin. The topic of instant replay inevitably became a talking point and Selig, to the surprise of no one, stated he did not think expanding video review was necessary.

What I did find surprising was him explaining that he has had "very, very little pressure from people who want to do more." Strange, there sure seems to be plenty of people calling for it that are close to the game, with Don Mattingly being the biggest advocate among MLB managers. I guess those closest to Bird Selig's lavish nest are the ones remaining mum on the glaringly obvious need. Sadly, as long as Selig, who will be 78-years-old in July, and the rest of the elderly, "traditional" personalities like Jim Leyland remain in the game, don't expect anything to change regardless of how many times the opportunity presents itself.
His contract as the fine, feathery commissioner of baseball runs through 2014, at which point he will probably sign yet another extension despite talk of retiring. Safe to say you can expect the gift of the human element to remain a hilariously embarrassing factor, one blown call at a time.
Previously: Blown Call Cost the Tigers a Game, But Jim Leyland Still Doesn't Want Instant Replay
Previously: Tim Welke's Blown Call in the Dodgers-Rockies Game Was Absurdly Awful