Absolute Pandemonium as Bucs Punter Saves Season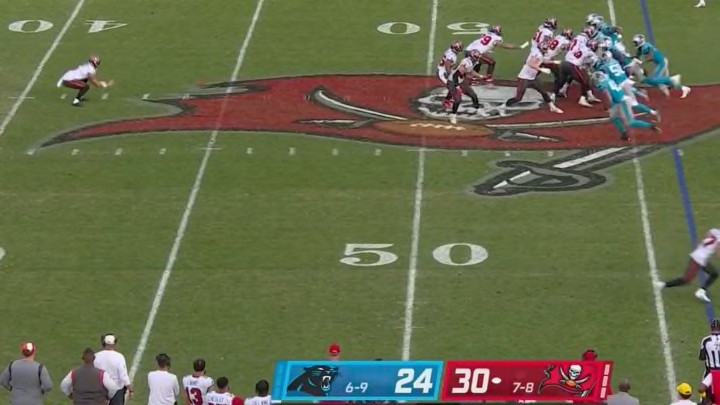 Wow /
The Tampa Bay Buccaneers did not have a fun time of it but they did manage to beat the Carolina Panthers on Sunday to clinch the NFC South. Tom Brady yelled and screamed and spiked footballs and pulled it off anyway. It was a close thing, though-- and it was really Bucs punter Jake Camarda that saved the day.
The Panthers forced a punt with less than a minute to go and the Bucs were up by six. Catastrophe struck for Tampa Bay as the snap was very low and Camarda found himself in the open field trying to make something happen. Even Kevin Burkhardt could not contain himself as he yelled "Oh my god" before Camarda somehow pulled off a miracle.
Even though the punt did not count it was truly incredible. Play out that exact situation 100 times and 99 circumstances will end very poorly for Tampa Bay. If the Panthers didn't score a touchdown they at the very least would've ended up with the ball at the 50-yard line. Instead Camarda pinned Carolina deep after the penalty and the defense easily stopped Darnold to win the game, the division, and a playoff berth.
Considering everything on the line Camarda should get the game ball. Tremendous.