Buccaneers and Eagles Fans Fight in Stands During Wild Card Game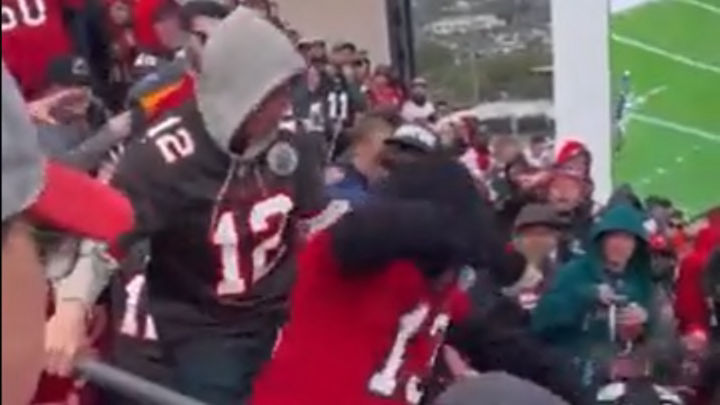 Tampa Bay Buccaneers fans brawl with Philadelphia Eagles fans during a Wild Card game. /
The Tampa Bay Buccaneers dominated the Philadelphia Eagles 31-15 during their Wild Card round matchup on Sunday. While the action on the field at Raymond James Stadium wasn't super compelling, a battle in the stands made up for it.
During the game, a brawl broke out between a number of Buccaneers fans and a few Eagles fans. Shoves became punches and tackles led to beer showers for the participants. It was a fairly long fight, and the upper deck melee ended badly for a few participants.
Here's video of what happened:
It started harmlessly enough, with some shoving and grabbing, but as soon as the first Bucs fan was thrown down the stairs, things popped off. There are some seriously vicious punches thrown in this one, and it's clear the Eagles fans took the brunt of it. But the worst part here is right at the end where a Bucs fan swung his arm twice at a woman who was attempting to break things up. That idiot should be banned from ever attending an NFL game again.
This fight was far more violent than the battle that broke out after the Dallas Cowboys lost to the San Francisco 49ers on Sunday.