Hayden Hurst Hurled Bryce Young's First NFL Touchdown Ball Into the Stands [UPDATE]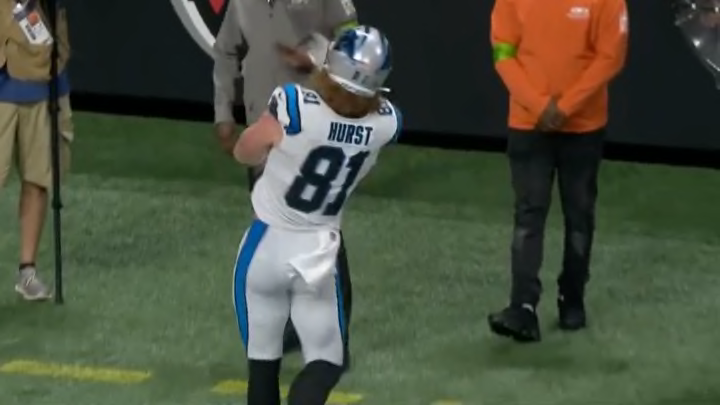 Hayden Hurst /
It took a quarter and a half but Bryce Young managed to record his first career touchdown against the Atlanta Falcons in his NFL debut. With five minutes to go before the half, the Carolina Panthers faced a second-and-goal while down by a touchdown. Young faked the handoff to Miles Sanders then whipped a quick pass to tight end Hayden Hurst, who shrugged off a tackle and tiptoed into the endzone. Pretty run of the mill stuff by all parties involved.
Hurst, however, did not think about the fact that it was Young's first-ever touchdown and chucked the ball into the stands instead of hanging onto it for the rookie QB. Scott Hanson on RedZone could not believe it.
Someone from the Panthers is probably already sprinting to the stands to offer the fan who caught it whatever they want in exchange for the ball. I bet it'll be in the locker room sitting in Young's seat by the end of the game. So it's not like Hurst really threw away a priceless memory.
But it is a little funny. There was no hesitation on Hurst's part. Not a thought otherwise. He was ready to throw that thing as far as he could. Whoops!
UPDATE: Hurst addressed the situation and confirmed the ball found its way back to the Panthers.