Bruce Arians Bizarrely Smacks His Own Player in the Helmet During Bucs-Eagles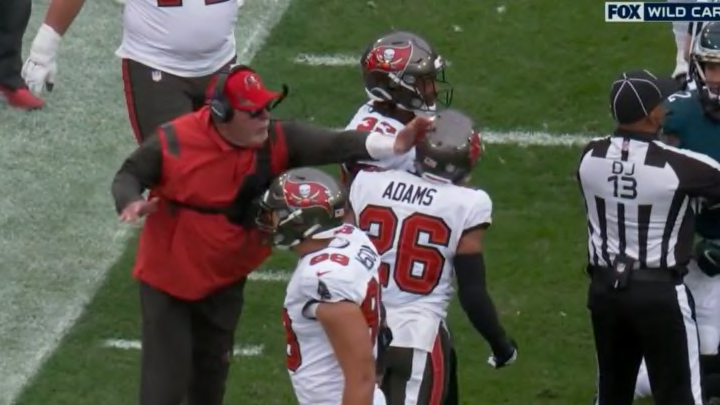 Bruce Arians, wyd? /
The Tampa Bay Buccaneers were giving the Philadelphia Eagles the business on Sunday afternoon, going up 17-0 in the first half. The second half got off to a slow start for both teams, but the Bucs got a shot of adrenaline when the Eagles muffed a punt in the third quarter and Tampa Bay recovered.
Afterwards, slow motion replay revealed that Bruce Arians, for some reason, smacked Bucs defensive back Andrew Adams upside the head after the play.
I mean... yeah, that's pretty weird! The FOX crew initially thought Arians was hyped up about the turnover and was giving his player a congratulatory helmet slap, as football guys do. But that was a little more aggressive and angry.
The most obvious answer is that Arians was trying to get his attention (probably to try and get him to quit talking to the officials/opponent) and resorted to physically doing so, but the end result looked... not great.
Weird stuff.