Joey Porter Jr. Got Away With Pass Interference On Browns Last Play
Oh well!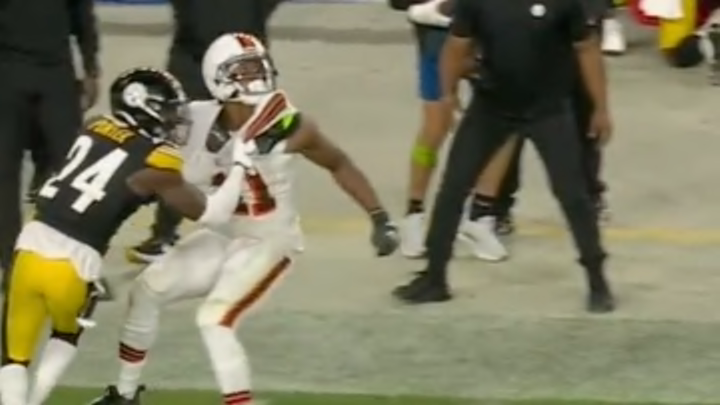 The Pittsburgh Steelers beat the Cleveland Browns, 26-22, on Monday Night Football to end Week 2 of the 2023 NFL season. The Browns had the ball at midfield at the 2-minute warning, but couldn't get any closer to the end zone. Deshaun Watson threw a ball out of bounds, was sacked and threw another ball out of bounds and the game was over. The final pass on the sideline to Donovan Peoples-Jones featured a very blatant hold from Steelers defensive back Joey Porter Jr., but it went uncalled.
Was the ball catchable? Should it have been defensive holding anyway? Would it matter because Watson struggled the entire game against the Steelers' defense? We may never know.
What we do know is that Deshaun Watson completed 22 of 40 passes for 235 yards and one touchdown. He also threw an interception (which was returned for a touchdown), lost two fumbles and was sacked six times. Kenny Pickett, whose contract is worth a lot less than Watson's $230 million guaranteed, had a more efficient game and held onto the ball better than the Browns' quarterback.
Watson was also called for two personal fouls for grabbing facemasks and got away with shoving an official.