Latest NFL Leads
VIDEO: NFL Replay Official Beaned by Penalty Flag During Browns-Ravens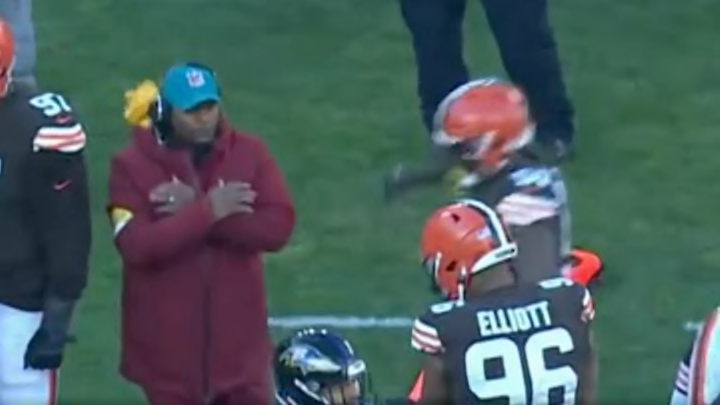 A flying flag /
Today's matchup between the Cleveland Browns and Baltimore Ravens was a big one. Both teams are scuffling for playoff position and the AFC North title. Unfortunately for the Ravens, the game effectively ended early in the second quarter when Lamar Jackson was carted to the locker room with an ankle injury.
The Browns took advantage and went up 24-6 before halftime. Baltimore actually had some momentum going in their first possession after the half as backup Tyler Huntley drove the Ravens into the red zone. He then proceeded to fumble around Cleveland's 10-yard line, killing the drive and likely any hope remaining that the Ravens could pull out the unlikely win.
The fumble recovery also provided us neutral viewers with some comedy. Linebacker Ifeadi Odenigbo picked up the ball and appeared to get touched while on the ground, but no official blew their whistle so he got up to run. Devonta Freeman came flying in and knocked Odenigbo out of bounds, causing a flag to be thrown by referees for a late hit. What appears to be an NFL replay official wandered into the frame right as the flag was thrown and got beaned by it. It nestled into his hood as the camera panned away.
The indignation on his face is easily the best part of the clip.
It's unclear what a replay official was doing on the field, but there are a lot of people on the sideline for every NFL game whose responsibilities are a complete mystery to us regular viewers. This time, though, he was in the wrong place in the wrong time.