Brook Lopez And Trey Lyles Set Off Brawl During Bucks-Kings Game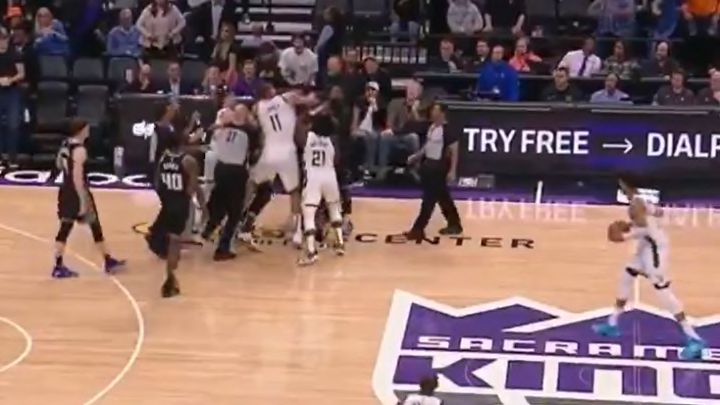 The Milwaukee Bucks and Sacramento Kings faced off in a tight contest Monday night and things were chippy throughout. With 5.4 seconds left in the fourth quarter, things boiled over and the two teams brawled a bit near the scorer's table.
Milwaukee's Brook Lopez went after Kings forward Trey Lyles and center Domantas Sabonis, who tried to get between the two men. It turned into a huge scrum and even coaches got involved. It all started when Lyles took a shot at Giannis Antetokounmpo and shoved him after a late foul. Lopez came to the aid of his teammate and Lyles gave him a shot to the face, escalating things to the next level.
Check this out:
My favorite part of the entire video is Giannis Antetokounmpo shrugging his shoulders and just walking away frustrated at the 16-second mark. He was clearly pretty annoyed by the whole thing.
Here's another look:
Lopez and Lyles were immediately ejected, and the Bucks closed out the win 133-124.
The NBA league office will be making phone calls to several people tomorrow.