Brook Lopez Ejected For Removing Gary Trent's Headband in Funniest 'Hostile Act' of NBA Season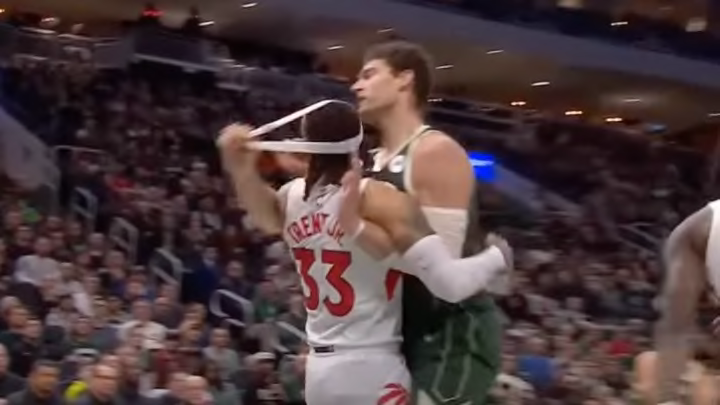 The Milwaukee Bucks beat the Toronto Raptors, 130-122, on Tuesday night. It was a one-point game midway through the fourth quarter when things got serious. Brook Lopez and Gary Trent Jr. got tangled up under the basketball while Jrue Holiday drove to the basket right next to them. Trent locked arms with Lopez and the two walked together to the baseline, both looking for a call. That's when Lopez removed Trent's headband and things got crazy.
Just an incredible job by everyone involved diffusing this situation because Lopez looked heated in a way that he usually reserves for opposing mascots. Throw in Bobby Portis who protects his teammates like a mother goose protects her goslings and there is no reason something like this should end peacefully.
Luckily, cooler heads prevailed, multiple players received technical fouls with Lopez getting ejected much to his surprise, and the game went on without further incident. Most importantly, the NBA made removing someone's headband a hostile act. Officially.