Brandon Drury Hammers Grand Slam in First Padres At-Bat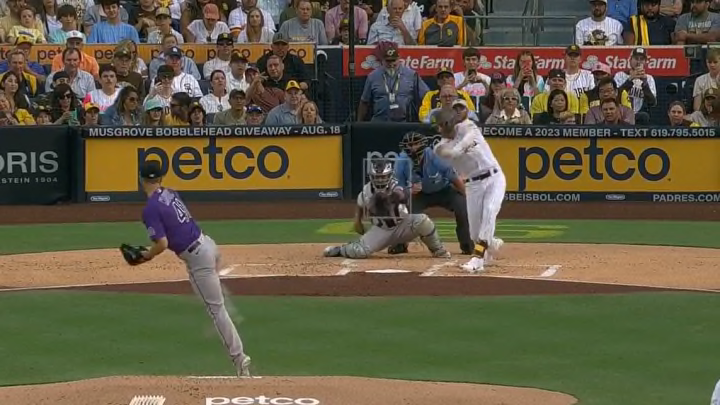 Wednesday night was Juan Soto's much-hyped debut with the San Diego Padres, but fellow trade deadline acquisition Brandon Drury stole the show in the first inning. An electric, packed crowd at Petco Park was treated to a huge first inning by the Padres, punctuated by Drury's first at-bat with the team, in which he hammered a grand slam to left field. The crowd went absolutely ballistic.
The first inning was crazy for the Friars. Jurickson Profar popped out on the first pitch he saw from Chad Kuhl. Soto stepped in for his first at-bat with the Padres and walked on four pitches. Manny Machado followed that up by slamming a double to centerfield. Trade deadline acquisition Josh Ball walked to load the bases, before Kuhl hit Jake Cronenworth, forcing in a run. Then Drury stepped up and hammered the first pitch from Kuhl into the left field seats for a grand slam.
Check it out:
What a moment for the Padres and their fans.
While Soto, Bell and Josh Hader got most of the attention as the Padres' biggest additions at the deadline, Drury was a great pickup. He's in the middle of a career-year, and that was his 21st home run, his average is up to .276 and his OPS is now .867. He'll only help lengthen and already vastly improved Padres lineup.
The Padres now have one of MLB's best lineups and Fernando Tatis Jr. isn't even back yet. This is going to be fun.