Boomer Esiason Still Haunted By Walker Hayes, AFC Championship Game Fiasco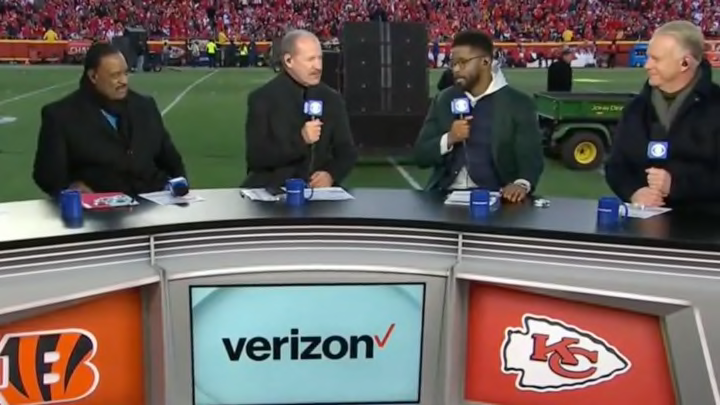 Walker Hayes singlehandedly shut down CBS' attempt to do its halftime show from field level at the AFC Championship Game a few months ago and it was tremendous television. For the people watching at home, at least. It probably wasn't as fun for Phil Simms, James Brown, Bill Cowher, Nate Burleson and Boomer Esiason, who were trying to opine about what the Kansas City Chiefs' bizarre empty possession might mean for the second half (a whole hell of a lot as it turns out).
Forced to relive the moment while on his show this morning, Esiason dove headfirst into the memories. And our man is still living with the nightmare.
"Whoever the dope was that put that speaker right behind us, I mean, I still have dreams about that day," Esiason said. "I'm actually kind of mad at myself. Given how goofy all these pregame shows and halftime shows have become, I should have gotten up out of my seat and knocked the speaker over but then I probably would have been kicked out of the stadium for vandalism or something and my bosses over there at CBS would have been mad at me."
Just a profoundly funny mental picture to conjure. A sweat-drenched Boomer awakening with a start in the night crying for someone to turn that country music down. Sleepless hours running through the scenarios of what could have been. Empty self-promises made to handle things different if another opportunity ever arises.
Pray for this man's peace, folks. He could use a warm thought.