Bob Myers Had to Watch the Warriors Lose With a Cowbell Ringing in His Ear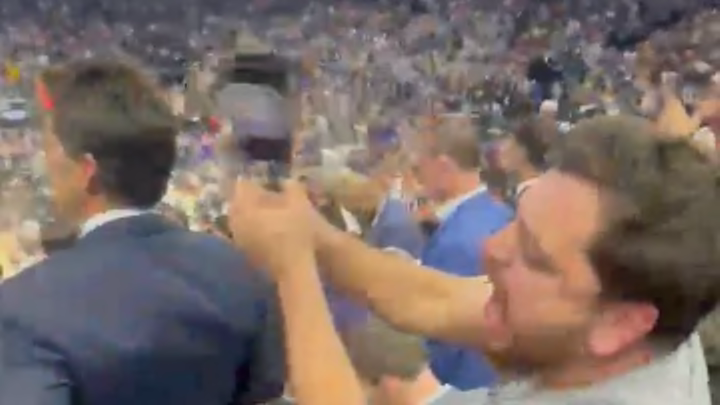 Bob Myers /
Twenty years ago Phil Jackson called Sacramento a "cow town" when he was still coaching the Los Angeles Lakers. Kings fans responded by bringing cowbells to Kings-Lakers games. Nowadays Jackson is probably off doing ayahuasca with Aaron Rodgers or something but the cowbells have remained a staple of the Kings' gameday experience. The team is finally good again after a 16-year playoff drought and the arena has been rocking with the sort of cowbell melody Bruce Dickinson could only dream of hearing.
Golden State Warriors GM Bob Myers was forced to experience it firsthand last night in Game 2 as an enthusiastic fan made sure the cowbell was ringing in his ears all night.
The Warriors have a fever. The only prescription is less cowbell.
In all honesty I cannot imagine a less pleasurable viewing experience than what Myers had but I assume the organization could put up the money for a booth if they wanted to escape it so there's not a ton of sympathy. I greatly encourage Kings fans to continue to ring the cowbells aggressively as I sit at home and laugh about it, many miles away from the grating pings. Go Kings!