Blue Wire Signs Raiders Star Maxx Crosby For Video Podcast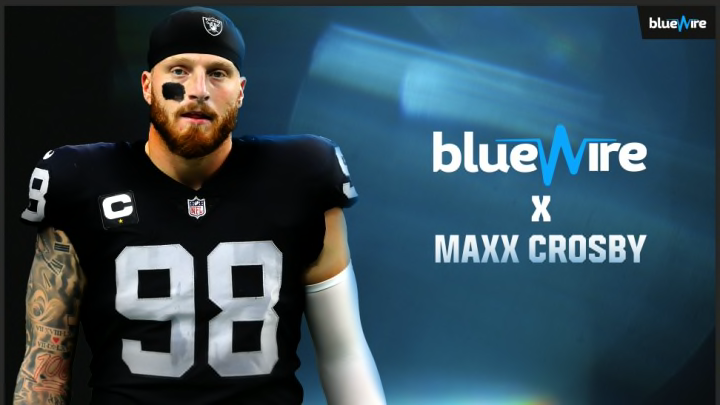 Blue Wire has added another name to its growing stable of athlete podcasters. The company has inked a deal with Las Vegas Raiders defensive end Maxx Crosby for a video podcast series broadcast out of the company's newly built studio in the Wynn Las Vegas.
Crosby's yet-to-be-named show will kick off in 2022 and will be produced as both an audio and video series. The initial deal is for 45 episodes.
Blue Wire founder and CEO Kevin Jones told The Big Lead Crosby was an ideal fit for the company. "Maxx has quickly become an electric personality and player in the NFL," Jones said.
"His appetite to create content is exactly what we look for in a partnership. His presence will bring an energy we want from our Wynn Las Vegas studio."
Jones continued, "Maxx is a natural on social media. His pages are full of fresh content. He understands audience building and our video podcast together will introduce more of his personality to the world."
Crosby also explained his excitement about the deal: "I'm excited to announce my partnership with Blue Wire on my upcoming podcast series. It's been a dream of mine to have my own show and this will be a show ALL sports fans will not want to miss."
The deal was developed with Rebecca Otto at Wasserman, who represents Crosby. Otto informed The Big Lead that though Crosby has never podcasted or hosted his own show before, he's been interested in having his own podcast for a long time. Otto felt it was the perfect time for Crosby to take this step.
Since its founding in 2018, Blue Wire has quickly established itself as a player in the sports podcast space. Former athletes like Chris Long and Cris Carter have shows on the network, while Gold Medal Loser with Lolo Jones will debut around the Winter Olympics.
The company also opened its Las Vegas studios in September as part of a three-year deal with Wynn Resorts.