Bills, Jets Players Fight In Tunnel After Game [UPDATE]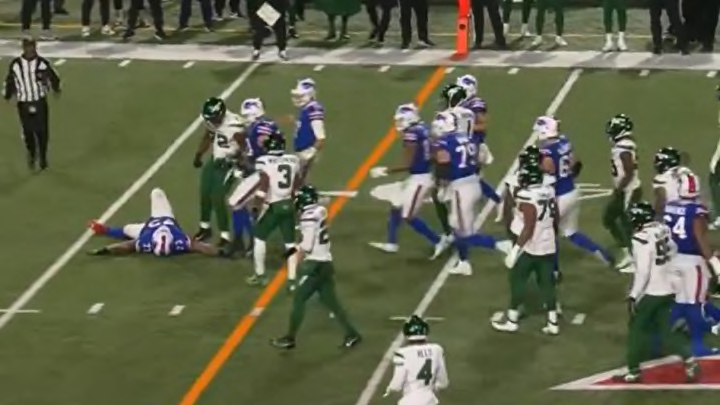 The Buffalo Bills beat the New York Jets 32-6 on Sunday, thoroughly dominating Robert Saleh's squad. After the game, a brawl between the two teams broke out in the tunnel, with Dion Dawkins and Micheal Clemons in the middle of it.
Dawkins, the Bills' left tackle, and Clemons, a Jets defensive end, wrestled with each other in the fourth quarter. At one point, Clemons shoved Dawkins to the turf after a play. Dawkins immediately popped up and waved to the crowd. Clemons was angry after Dawkins landed on him on when the play was already over and drew a flag for unnecessary roughness.
Here's video:
Apparently that animosity spilled into the tunnel and the two went after each other:
And more info:
There's no video yet but we'll let you know if any surfaces. The NFL likely has a lot to sort through here as fines will almost certainly be handed out for the ugly finish to the game.
UPDATE: Here's a little video that doesn't show much more than an overzealous security guard's hands. According to ESPN's Rich Cimini, no punches where thrown.
And here's video of Clemons and Dawkins walking and talking. They had to be separated, but there were no punches thrown.