Bills Narrowly Avoid Illegal Hit Because Dolphins RB Held Ball in Front of Face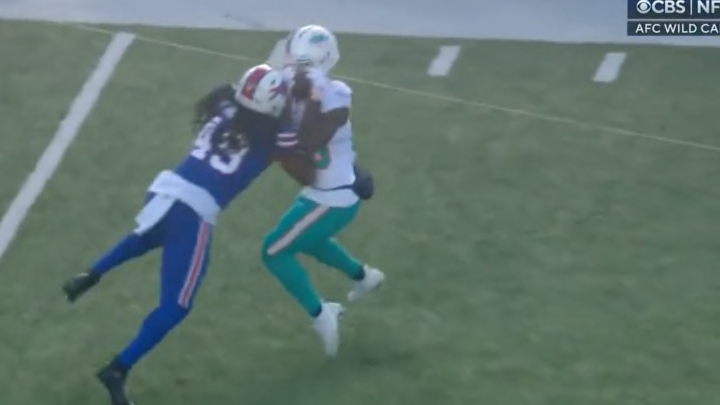 In today's edition of things you probably haven't seen before, the Buffalo Bills managed to dodge a flag for a helmet-to-helmet hit because the football was in the way. Seriously.
In the late second quarter of Buffalo's Wild Card matchup with the Miami Dolphins, Skylar Thompson hit Salvon Ahmed in the flat. Bills LB Tremaine Edmunds saw it coming from a mile away, lined Ahmed up, and absolutely obliterated him. In real time, though, it looked like Edmunds should've been flagged for an illegal hit because he led with his helmet and nailed Ahmed above the shoulder pads.
But he did not get flagged for that because Ahmed happened to be holding the ball in front of his face, so Edmunds' helmet drilled the football instead of Ahmed's facemask.
Pretty weird. Probably won't see that again. And given how violent the hit ended up being despite the buffer of the football it should've been a flag regardless.