Massive Cycling Crash Leaves Rider Dangling From Bridge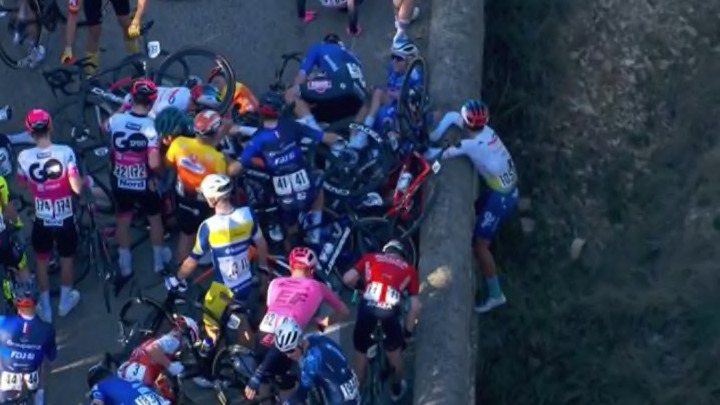 Please accept our deepest sympathies if you are at work and are planning on watching Stage 2 of the Etoile de Bessèges on DVR upon arriving home but something so unusual happened about 25 kilometers from the finishing line it warrants discussion and some appreciation that it didn't end up worse. Serious crosswinds and a narrow bridge combined to create a nightmare situation as a massive pileup left Valentin Ferron clinging to the side of the overpass so he didn't go plunging into the water below.
This created a logistical problem and forced bigwigs to call off the day's action.
The race support vehicles, including the medical car, were caught behind the crash and held up as the riders who avoided the crash pressed on ahead. For that reason, the organisers made the decision to neutralise the stage, calling all riders to a halt at the 22km-to-go mark. 

A delay of more than 25 minutes ensued, giving riders a chance to regroup, brush themselves off and check for injuries, as well as the organisers to get everything else into place. However, it was deemed unsafe to continue, and the organisers took the difficult decision to leave the stage unfinished. 
Sébastien Grignard was reportedly taken to the hospital to check for a possible fracture while additional injuries sustained by others are unclear at this point.