SEC Network Halftime Show Gets Awkward After Peter Burns Makes Joke About Benjamin Watson's Wife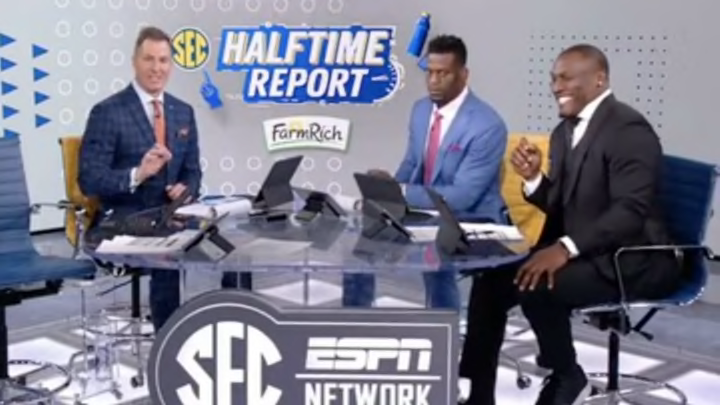 Vanderbilt and Florida played the early game on ESPN's SEC Network on November 19th. During halftime Peter Burns joked about Benjamin Watson not getting the memo that everyone was wearing a dark suit because Watson was wearing a light blue suit. Watson responded by saying as long as he gets a text from his wife saying he looks good, that's all that matters. As the show started to go to commercial Burns said, "That's not what she said to me." This got the entire crew wound up going into break. When the braodcast returned from a commercial break only Chris Doering and Takeo Spikes were on set.
Doering and Spikes appeared both confused an amused. Watson walked back to his chair, looking quite serious and Doering asked if he had told Burns to "keep your wife's name out of his mouth?" Doering then added "We'll see how Peter Burns is with that smart mouth in the second half."

ESPN PR says this was a joke.
If this really was a bit, well, good job? I guess you just never know with the SEC.