Latest NFL Leads
Zac Taylor Shows Up at Bar to Hand Out Game Ball to Fans, Place Goes Nuts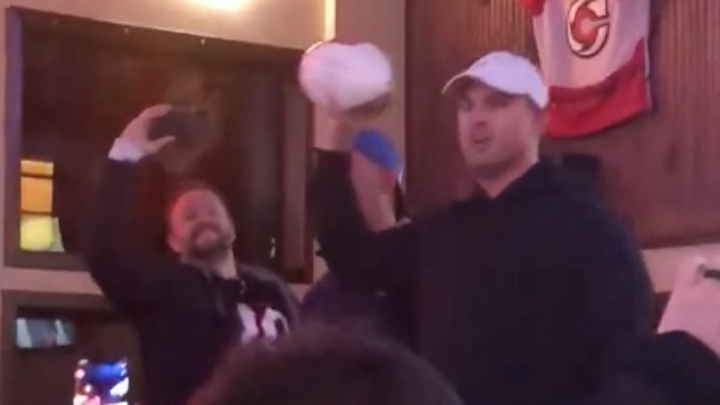 The Cincinnati Bengals secured the franchise's first playoff victory since Jan. 6, 1991 by surviving the resilient Las Vegas Raiders on Saturday evening. Ja'Marr Chase was unguardable, Joe Burrow was everything you'd want a first-time postseason starter to be and placekicker Evan McPherson was a perfect 4-for-4 on field goals. After recognizing the players on the field responsible for the streak-breaking win, Bengals coach Zac Taylor shared the fruits of success back to the people.
Balls were delivered to three different sports bars, where they were warmly received. Because what could be better than watching your team dominate a meaningful football game for the first time in 31 years and then having the captain of the sidelines thank you, the people? Taylor is like a benevolent Bane.
Here he is dropping by one of the establishments.
"We want to start new traditions with playoff wins where we give the game balls to the city and let the fans enjoy it take selfies with it. Whatever it is, we'll figure out how we're going to do it, disperse these things around. I think the city can finally exhale and enjoy this team for what it is," Taylor said.
Tight end C.J. Uzomah was given the honors of delivering another of the baubles.
Great new tradition. And with Burrow continuing to improve, a sure sign local bars are going to have more conversation starters out in the foyer.