Bengals TE C.J. Uzomah Carted Off After Nasty Knee Injury vs. Chiefs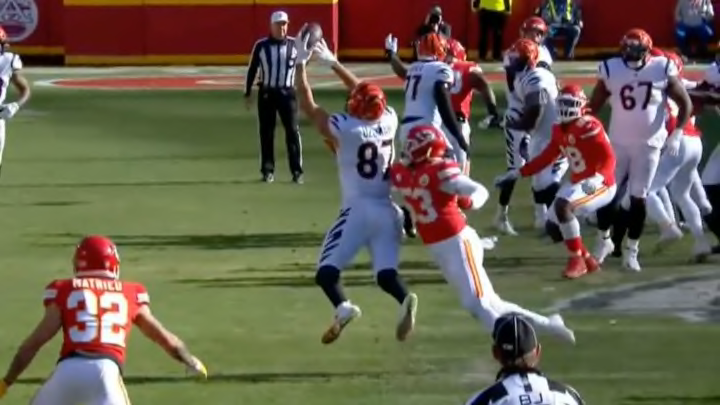 C.J. Uzomah /
The Cincinnati Bengals were underdogs by every metric heading into Sunday's AFC Championship Game clash with the Kansas City Chiefs. They'll need everybody at their best to have a prayer of taking down Patrick Mahomes and the rest of the defending conference champs.
Their efforts did not get off to a great start. The Bengals went three-and-out on their first drive before allowing KC to walk down the field and score a TD. On Cincy's second drive, the offense was just starting to get things going when Joe Burrow tried to squeeze a pass between multiple defenders to tight end C.J. Uzomah. Uzomah has become one of Burrow's favorite targets this year and is a key part of the offense. As he went up for the pass, Uzomah twisted his leg the wrong way on his way down and limped off the field immediately.
Uzomah went into the blue medical tent before getting on a cart to the locker room. CBS's Evan Washburn reported that he couldn't put any weight on his left leg and the team announced he was doubtful to return.
Hopefully it isn't as bad as it looks, but it would be shocking to see Uzomah return today regardless. Burrow has lost one of his key weapons and suddenly a Herculean effort gets that much harder.