Bears Lose Interception Thanks to Terrible Call by Referees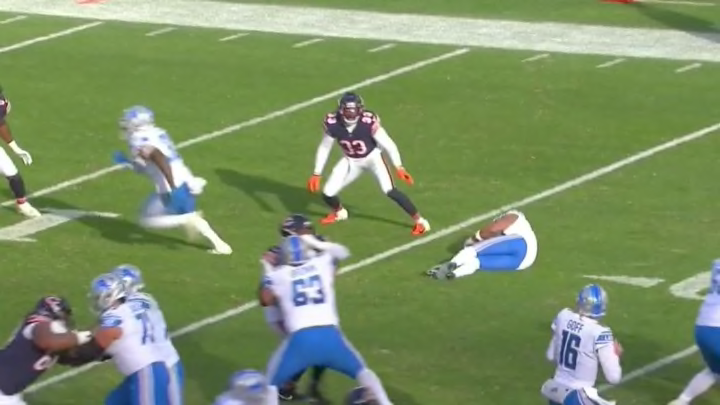 Bears-Lions /
The Chicago Bears' midseason heel turn from one of the least entertaining teams in NFL history to one of the most exciting offenses in the league remains stunning. The trend continued on Sunday against the Detroit Lions as Justin Fields put on a show in the first three quarters and had the Bears up 24-10 in the early fourth quarter.
The Lions were driving down the field to cut into the lead when Jared Goff threw one of his patented no-good, very bad interceptions to Jack Sanborn, the linebacker hanging out in the middle of the Bears' defense. Detroit was saved from the error by an illegal hands to the face call on Bears CB Jaylon Johnson.
The one replay the Fox crew gave suggested it was not a very good call at all. And the Lions scored on the very next play.
Yup. No doubt about it. That's a bad call. The flag flew because Johnson's hands were high but he didn't hit the receiver's face and thus the interception should've stood. The Bears get screwed again.
As if matters couldn't get worse, Fields threw a terrible pick-six as soon as Chicago got the ball back. A quality example of how quickly things can snowball based off one bad call!