Austin Peay - North Florida Fought After a Hard Foul on a Dunk Attempt That Didn't Even Count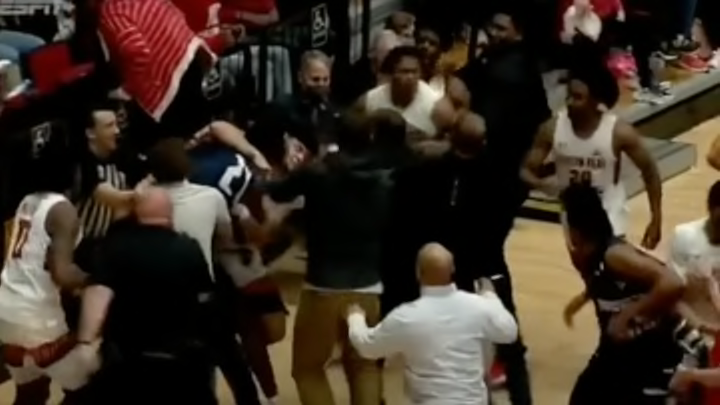 Austin Peay beat North Florida, 73-71, on Saturday in the final game at Austin Peay's longtime home, the Winston Dunn Center. In addition to going out with a win, they went out with a fight that spilled into the stands and then presumable into the hallways headed to the locker room.
North Florida had the ball, trailing by one with 13-seconds remaining in regulation. There was a turnover with just three seconds remaining. The ball was thrown ahead to Guy Fauntleroy who passed it to a streaking Cameron Copeland who threw bounced an alley-oop to himself as time expired. North Florida players took exception to this with Jonathan Aybar hitting Copeland while he was in the air to stop the dunk.
That's when a fight broke out and spilled behind the stanchion. At least a few punches appear to be thrown before the teams were separated. As police get involved Aybar calms down, but then appears to make eye contact with someone across the gym as he runs through a door which leads to a tunnel to the locker room. As the announcers note, the hallways are connected so presumably, the action continued backstage.
We would be remiss not to mention that Austin Peay came into this game with a 8-20 record, beat a 12-15 team and then Copeland attempted that dunk after going 1-for-8 in 37 minutes. Just an amazing exercise in what are we even doing here?