Atlanta Hawks Fan Turns In Objectively Hilarious Layup Attempt, Takes a Mighty Tumble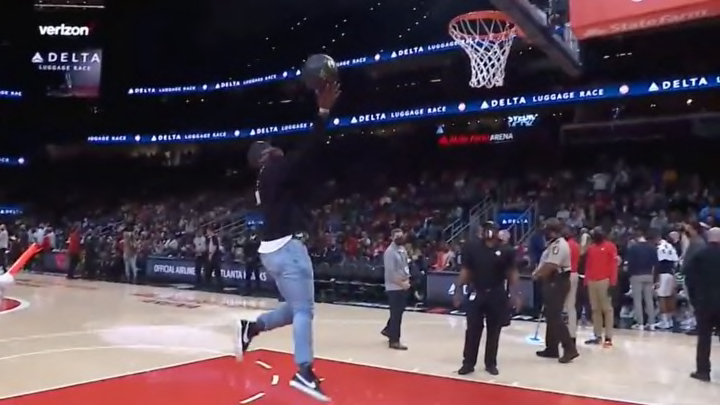 When people make the argument that there's no reason to attend live sporting events when 72-inch televisions and second screens exist, they are fundamentally undervaluing the experience of seeing other human beings do interesting or weird things. Because when an average Joe is ushered out onto the field or hardwood during a stoppage to compete in some sort of physical challenge, there's a pretty good chance it's going to be worth watching. The whole situation is a hilarious blooper waiting to happen.
The Atlanta Hawks delivered big laughs for their fans last night during a contest that involved being the first to make a layup. One unlucky gentleman snatched defeat and humiliation from the jaws of victory with a sprinting attempt that almost broke the backboard Darvin Ham style.
If that wasn't bad enough, his knees buckled like an accordion upon impact, sending him sprawling toward the stanchion. Somehow any ACL-PCL-MCL damage was avoided. The same cannot be said about copious ribbing and roasting.
This is what it would have looked like if Sandy Lyle had tried any point-blank shots in Along Came Polly. Just pure, uncut confidence evaporating completely in a split-second. In-arena entertainment can be a cruel game.