Aroldis Chapman Trucked an Umpire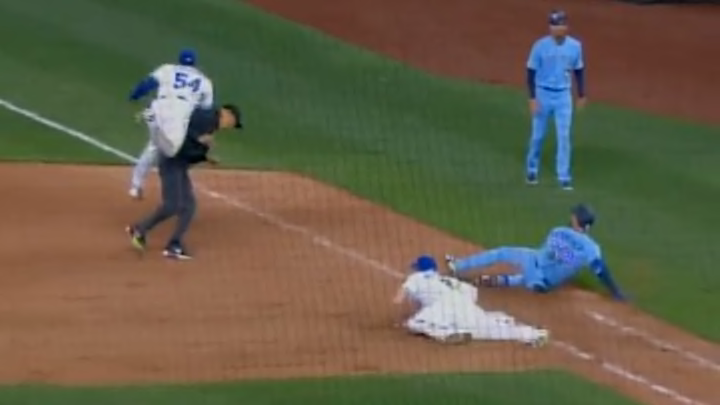 The Toronto Blue Jays beat the Kansas City Royals on Tuesday night, 4-1. Aroldis Chapman worked the ninth inning for the Royals and turned a routine ground ball to first into absolute chaos as he forgot how to properly cover the base and ended up running over an umpire.
As noted by the broadcast, he didn't take the right angle to the bag and instead bailed out, barely missing a collision with first baseman Vinnie Pasquantino who then had to dive into first to try and beat Kevin Kiermaier to the bag.
Toronto Blue Jays v Kansas City Royals / Ed Zurga/GettyImages
First base umpire Vic Carapazza was concentrating on the play and Chapman, also looking to see what was going on, just kind of jogged into him. Carapazza was clearly frazzled. He appeared to make a safe signal while he was on his back, but he may have just been calling timeout? He got up and made an emphatic out call as he jumped up and that actually was the right call so they moved on with the game. Still, what a crazy insignificant play.